August 3, 2016
President Barack Obama
The White House
1600 Pennsylvania Avenue
Washington DC 20500
Dear Mr. President,
In August 2014, dozens of organizations counting millions of Americans among their members wrote to you, alarmed at reports of acute nicotine poisoning and other health and safety hazards faced by children working in US tobacco fields. We are writing again regarding measures you should take to protect these vulnerable children before you leave office in January 2017.
On May 5, the FDA announced new regulations prohibiting the sale of e-cigarettes to children under the age of 18. In announcing the new regulations, the Secretary of Health and Human Services stated, "We've agreed for many years that nicotine does not belong in the hands of children." We agree. Yet US law allows children as young as 12, and in some cases even younger, to work in direct contact with tobacco in US tobacco fields and curing barns. There are no regulations or special provisions in place to protect child tobacco workers from exposure to nicotine and awareness raising efforts have limited effect given that the extreme poverty many tobacco farming families experience is the principle reason these children work in the tobacco fields at all.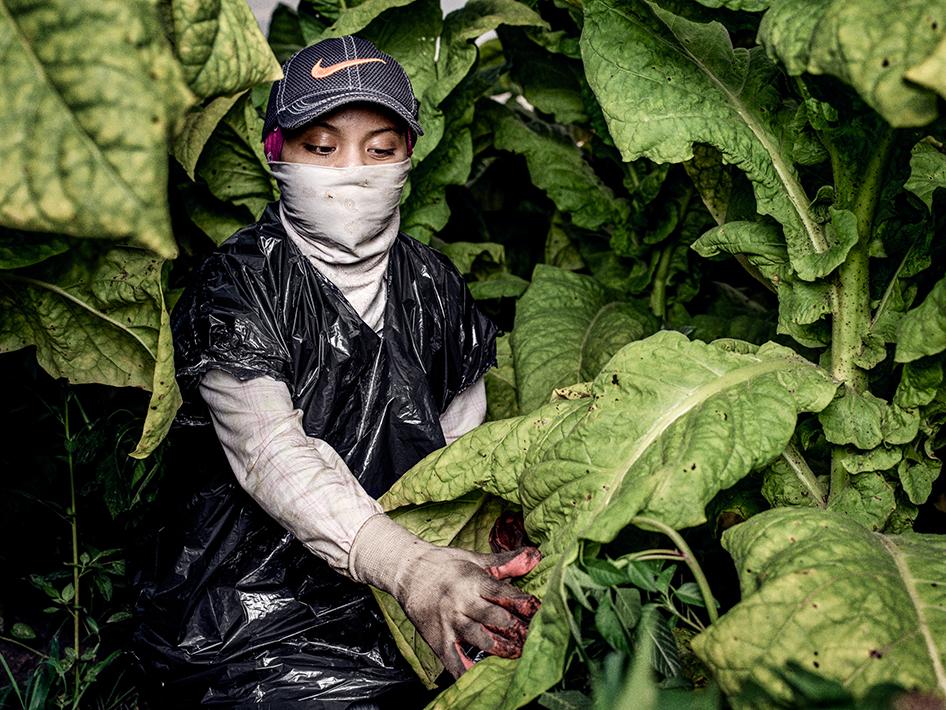 The health risks tobacco farm workers face are considerable, leaving workers vulnerable to heat stroke and green tobacco sickness. The majority of these workers are seasonal/migrant workers who have little access to mechanisms that would hold growers accountable for conditions in the fields, and often few options but to bring children to work. The health consequences of tobacco work are worse for children than they are for adults, because children's smaller bodies absorb proportionately more nicotine than adults. There are long-term developmental repercussions as well. Children who work in direct contact with tobacco leaves risk acute nicotine poisoning, and may experience symptoms including vomiting, nausea, headaches and dizziness. A widely-reported 2014 study by Human Rights Watch found that the majority of the 141 child tobacco workers interviewed had experienced the sudden onset of symptoms consistent with nicotine poisoning while working in fields of tobacco plants and curing barns in North Carolina, Kentucky, Tennessee and Virginia.
Public health research has found that non-smoking adult tobacco workers have similar levels of nicotine in their bodies as smokers in the general population. Although the long-term effects of nicotine absorption through the skin have not been studied, research on smoking finds that nicotine exposure during adolescence has been associated with mood disorders and problems with memory, attention, impulse control, and cognition later in life.
In the last two years, both U.S. tobacco growers' associations and major companies in the tobacco industry have made some progress in acknowledging that children should not be working on tobacco farms. The Tobacco Growers Association of North Carolina and the Council for Burley Tobacco, which collectively represent approximately half of all US tobacco growers, have adopted policies stating that children under age 16 should not be hired to work on tobacco farms. The two largest US-based tobacco companies, Altria Group and Reynolds American, now prohibit their suppliers from employing children under the age of 16. Companies including Philip Morris International have publicly called for US regulatory action to back up these voluntary commitments.
The safety and health of child tobacco workers is just as important as teens who may be tempted by e-cigarettes. We urge you to take immediate action to protect these vulnerable children, through the following:
1) Immediate regulations to ban children from working in direct contact with tobacco: A critical first step the administration can take to protect child tobacco workers is for the Department of Labor (DOL) to issue a hazardous occupation order that specifically prohibits children from working in direct contact with tobacco. In 2011 the DOL issued proposed regulations to update the list of tasks too dangerous for children under age 16 employed in agriculture, including "all work in tobacco production and curing, including, but not limited to such activities as planting, cultivating, topping, harvesting, baling, barning, and curing." Intense opposition to the regulations mischaracterized them as applying to family farms and focused on specific elements, including the use of tractors and certain tools. In 2012, the administration withdrew the proposed regulations.