The CLC's and Cotton Campaign's Protest of the Use of Forced Child Labor and Adult Labor in Uzbekistan's Cotton Fields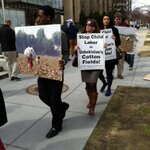 When you are a child labor activist, you spend a surprising amount of time sitting at your desk writing emails and blogs or in meetings with federal officials and others concerned about child labor. Opportunities for street activism are not common, but earlier this month, the members of the Child Labor Coalition and the Cotton Campaign hit the streets for a protest (video) in Washington, D.C. to send the government of Uzbekistan a message: stop the forced labor of a million-plus children and adults in your annual cotton harvest.
Every year, Uzbekistan's ruling elite forces children and adults – students, teachers, nurses, doctors, public servants and private sector employees  –  to pick cotton under appalling conditions. Those who refuse are expelled from school, fired from their jobs, denied public benefits, or worse. Some harvesters have reported being beaten because they did not meet their cotton quota.
Uzbekistan's government is unique in its complicity in bringing out about widespread forced labor. The country is one of the largest cotton producers in the world, and Uzbek cotton sometimes finds its way into the U.S. apparel industry. More than 130 apparel companies have signed a pledge that they will not knowingly use Uzbek cotton in their garments.
Despite this widespread concern in the apparel industry and intensifying scrutiny from non-government organizations all over the world, the regime, led by dictator Islam Karimov, has steadfastly refused to abandon forced labor in the country's cotton fields. Still, persistent pressure from activists may have altered the harvest a little. This year for the first time, fewer schools with young students were closed and fewer young students were compelled to harvest cotton. However, an even greater number of teens and young adults were forced to go to the fields and work for pennies an hour under conditions that are often very difficult.
It's not always easy to get the attention of one of the world's most brutal dictators, but that's what the advocacy community did during New York City's Fashion Week in September 2011, when several CLC members and the Cotton Advocacy Network successfully pressured event organizers into ousting Uzbekistan's Gulnara Karimova from the prestigious fashion show. A designer and, at the time, an Uzbek diplomat, Gulnara is the daughter of Uzbekistan's brutal leader Islam Karimov. Gulnara's fashion line was the perfect vehicle for highlighting the abuses of her father's regime because cotton is a common component in many clothing items. Thanks to our protest, Gulnara was forced to move her fashion show to a private restaurant where attendees and the media were met with our chants and picketing.
Flash forward 16 months and the Cotton Campaign learned that Uzbek Foreign Minister Abdulaziz Kamilov was about to visit Washington, DC to seek increased support from the U.S. government for Uzbekistan. Rumor has it that Uzbekistan wants the U.S. to leave behind hundreds of millions of dollars worth of military equipment when the U.S. pulls out of Afghanistan.
The CLC and Cotton Campaign quickly called its members together to send a message: stop human rights abuses and forced adult and child labor immediately. At our March 11 protest 25-plus activists gathered to express their concern. We picketed the Embassy of Uzbekistan and let our voices be heard with chants like, "Uzbek kids should be in school, child labor isn't cool!" and "Hey hey, ho ho, child labor's got to go!"
Representatives of both groups tried to deliver a letter to the Foreign Minister, offering to sit down with him and discuss the human rights situation in Uzbekistan. Our knocks on the embassy door went unanswered, but we could see staff filming us from behind curtains. Hopefully, news of our protest has made it back to President Karimov and instills an increased desire to end forced labor in Uzbekistan's cotton fields. Coverage of the protest by the Voice of America helped to ensure that the Uzbek people know that Americans care about their plight.
Members of the Cotton Campaign, including Mark Lagon, former US Ambassador-at-Large to Combat Trafficking in Persons. CLC member Bennett Freeman of Calvert Investments, and Nate Herman of the American Apparel and Footwear Association have written an insightful essay about this issue, which can be read here.
https://stopchildlabor.org/wp-content/uploads/2022/08/logo.png
0
0
Reid Maki
https://stopchildlabor.org/wp-content/uploads/2022/08/logo.png
Reid Maki
2013-03-26 14:11:10
2022-11-07 06:10:44
The CLC's and Cotton Campaign's Protest of the Use of Forced Child Labor and Adult Labor in Uzbekistan's Cotton Fields