CHILD LABOR COALITION statement on new estimates of child labor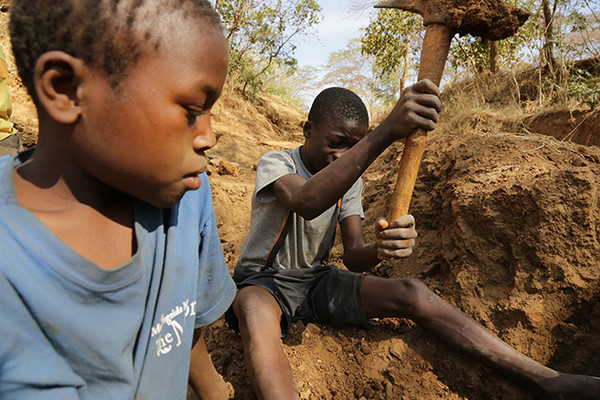 Two 13 year old boys digging for gold in a mine in Mbeya region, Tanzania.
The Child Labor Coalition applauds progress in child labor remediation indicated by new estimates released by the International Labour Organization, but expresses concern that progress in fighting child labor is slowing
September 22, 2017
Contact: Reid Maki, (202) 207-2820, reidm@nclnet.org
(Washington, DC) The Child Labor Coalition (CLC), whose 37 member organizations fight exploitative child labor and represent millions of Americans, welcomed new child labor estimates released Tuesday, September 19th by the International Labour Organization (ILO) which found that the number of children in child labor is 10 percent lower than 2012. The CLC, however, is concerned that the pace of ending child labor has slowed decidedly.
During the period of 2000 to 2012, the ILO found "significant progress" in the reduction of child labor as the estimate of children in child labor fell from 246 million to 168 million—a reduction of 78 million. Progress was pronounced among younger children and girls, who experienced a 40 percent decline in child labor. The greatest portion of that decline occurred in the period 2008-2012, despite a global economic recession.
The new data from the ILO estimates child labor trends from 2012 to 2016 and found that child labor dropped from 168 million to 152 million—16 million fewer children representing a 10 percent drop. Between 2008 and 2012, the level dropped from 215 million to 168 million—47 million children or 22 percent. The most recent data represents a one-third reduction of the prior four years.
Children in the most dangerous forms of work labeled "hazardous labor" dropped from 171 million to 85 million from 2000 to 2012—a reduction of 50 percent. The number of hazardous child workers dropped 30 million between 2008 and 2012 but only 10 million in the last four years—once again, about one-third the level of the prior four years.
A jointly released estimate by the ILO and the Walk-Free Foundation also released on Tuesday estimates that there are 40 million victims of modern slavery in the world and that about one in four of these victims are children.
The following statement may be attributed to Reid Maki, Director of Child Advocacy for the National Consumers League and Coordinator of the Child Labor Coalition:
"The United Nation's sustainable development goal 8.7 targets the complete elimination of child labor by 2025. If we are to achieve this extremely difficult objective or come close to achieving it, it is imperative that we pick up the pace of child labor reduction significantly.
This means more resources to fight child labor–not less as the Trump Administration is trying to push through as it tries to end US financed child labor remediation projects. At this critical juncture, we must continue to fund the US Department of Labor's Bureau of International Labor Affairs, which has helped reduce the number of child laborers in the world by nearly 100 million since 2000. But governments alone cannot end child labor, the corporate entities that benefit from labor exploitation must do more to remove child labor from their supply chains. A massive international effort is needed. We must declare war on poverty, provide living wages for adults so they do not feel compelled to have their children work and we must fight to protect the labor rights of all adult workers. Government must administer financial assistance for the neediest families, provide quality education for all children, pass stronger child labor laws and enforce those laws more robustly.
###
About the Child Labor Coalition
The Child Labor Coalition, which has 37 member organizations, represents consumers, labor unions, educators, human rights and labor rights groups, child advocacy groups, and religious and women's groups. It was established in 1989, and is co-chaired by the National Consumers League and the American Federation of Teachers. Its mission is to protect working youth and to promote legislation, programs, and initiatives to end child labor exploitation in the United States and abroad. The CLC's website and membership list can be found at www.stopchildlabor.org.
https://stopchildlabor.org/wp-content/uploads/2022/08/logo.png
0
0
Reid Maki
https://stopchildlabor.org/wp-content/uploads/2022/08/logo.png
Reid Maki
2017-09-22 18:29:04
2022-11-17 05:55:49
CHILD LABOR COALITION statement on new estimates of child labor