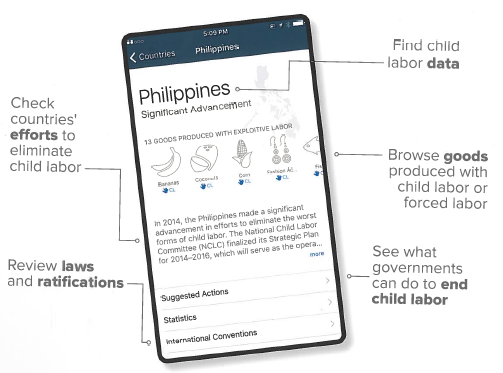 The US Department of Labor recently released an exciting new tool to help consumers figure out if the products they purchase are made with child labor or forced labor.  The sheer size of the 2014 Findings on the Worst Forms of Child Labor produced by the Bureau of International Affairs (ILAB) highlights the reality of this problem – the hard copy version of the report is over 1,000 pages long and weighs in at over eight pounds. The International Labor Organization (ILO) estimates 168 million children globally are engaged in child labor, including 85 million in hazardous labor; 21 million people are trapped in forced labor, including 6 million children. Think of the DOL "Findings" report as a road map that tells us where children are working. It also includes vital information about how 140 countries are combating child labor.
On Wednesday 30th September ILAB launched their brand new app, 'Sweat & Toil' – now available from itunes and the App Store, which features the report data in a way that makes it much more accessible.  The app enables an individual to search by country name or product.  It includes a country specific review of the current laws and ratifications and the efforts by that country being made to eliminate child labor and assesses its progress. For example, a user can click on "Albania" and learn that the country made "moderate advancement" in dealing with child labor in 2014. By clicking on a statistics button, the user learns that 87.5 percent of child workers toil in agriculture in the country.  A user who clicks on "Brazil," learns that the country has 16 products produced with exploitative labor, including 13 with child labor and four with forced labor – one of which is beef.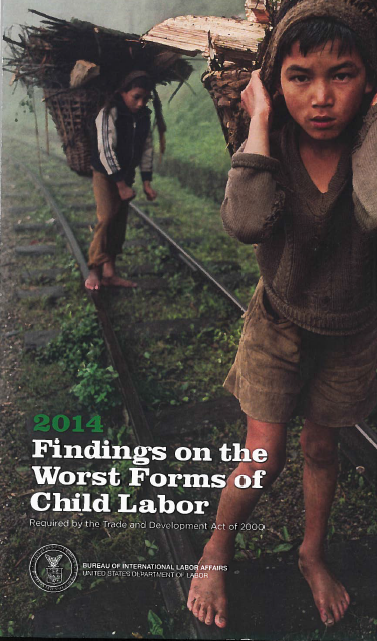 Consumers purchasing a specific good can look it up to see if it is produced by child labor or forced labor – or both. Buying a bag of charcoal for your barbecue? The app would help consumers to know that production of charcoal involves child labor in Brazil and Uganda, and in Brazil it is produced with both forced labor and child labor. For consumers who care about the world and children who are exploited in global supply chains, this app could be addictive.
The broader aim is to empower the consumer to make intelligent decisions about the products we buy as well as persuade companies to examine their supply chains and identify where risks may be.
Let's hope this user-friendly app, with its vast amount of current data on child labor and forced labor, will bring about a future where the consumer is highly conscientious and intentional in their consuming.
To download the app, search for "Sweat and Toil." Readers can view online copies of the new updates of DOL child labor reports by clicking here.
Written by Contributing Writer Deborah Andrews and Reid Maki of the CLC staff.
https://stopchildlabor.org/wp-content/uploads/2022/08/logo.png
0
0
CLC Contributor
https://stopchildlabor.org/wp-content/uploads/2022/08/logo.png
CLC Contributor
2015-10-20 10:54:26
2022-11-17 05:55:49
New app seeks to raise awareness of the worst forms of Child Labor and Forced Labor