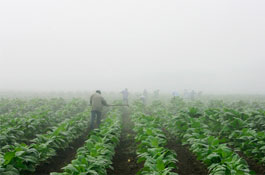 For immediate release: January 21, 2015
Contact: NCL Communications, Ben Klein, (202) 835-3323, benk@nclnet.org
Washington, DC—Last week's introduction of a bill in the Virginia state legislature to prohibit children under the age of 18 from working in direct contact with tobacco is a hopeful sign in the continued fight to eradicate the practice of youth work in American tobacco fields.
The bill, HB1906, was introduced by Delegate Alfonso Lopez (Democrat-Arlington) and would include an exemption for family farms. If passed, HB1906 would be the first legislation of its kind in a state that harvests tobacco. In Virginia, it would preempt some of the outdated Fair Labor Standards Act provisions that allow children as young as 12 to work unlimited hours on farms performing the dangerous work.
"Children picking tobacco regularly suffer nicotine poisoning, toxic pesticide exposure, and work at dangerous heights," said Sally Greenberg, executive director of the National Consumers League (NCL) and co-chair of the Child Labor Coalition (CLC), which NCL co-founded 25 years ago. "We are encouraged by Delegate Lopez' introduction of HB1906, and we hope this is a sign of things to come. We urge Virginia lawmakers to support this bill, and other tobacco-producing states to follow suit to protect America's most vulnerable workers—children in tobacco fields."
In the last year, advocates from NCL, the CLC, and its member organizations, have sought to raise public awareness on youth harvesting tobacco. More than 50 groups have signed onto a series of letters to Congress, industry, and the Obama Administration. In September, Rep. Matt Cartwright (D-PA) and Rep. David Cicilline (D-RI) circulated a sign-on letter to House members asking the Department of Labor to take narrowly-focused regulatory action to protect children from dangerous tobacco fields. In December, Phillip Morris USA's parent company Altria, the largest U.S. tobacco manufacturer, announced that it would require its suppliers to prohibit children under 16 years of age from working in their tobacco fields. NCL praised the company for taking a leadership role on this important issue and called on others to follow.
"Because our laws are not currently protecting them from this dangerous work, children who harvest tobacco have no choice but to try to protect themselves, wearing garbage bags to minimize skin contact with harmful residues," said Reid Maki, NCL's director of child labor advocacy and the coordinator of the CLC. "We applaud Delegate Lopez for taking this first step in Virginia to protect these vulnerable child workers. We encourage his colleagues to stand with him, against the pressure of big agriculture and some in the tobacco industry, for the sake of these young workers."
###
About the National Consumers League
The National Consumers League, founded in 1899, is America's pioneer consumer organization and a co-chair of the Child Labor Coaltion. Our mission is to protect and promote social and economic justice for consumers and workers in the United States and abroad. For more information, visit https://www.nclnet.org.
https://stopchildlabor.org/wp-content/uploads/2022/08/logo.png
0
0
CLC Member
https://stopchildlabor.org/wp-content/uploads/2022/08/logo.png
CLC Member
2015-01-21 14:22:00
2022-11-07 06:10:49
NATIONAL CONSUMERS LEAGUE PRESS RELEASE : Move to ban youth work in Virginia tobacco fields welcome by advocates