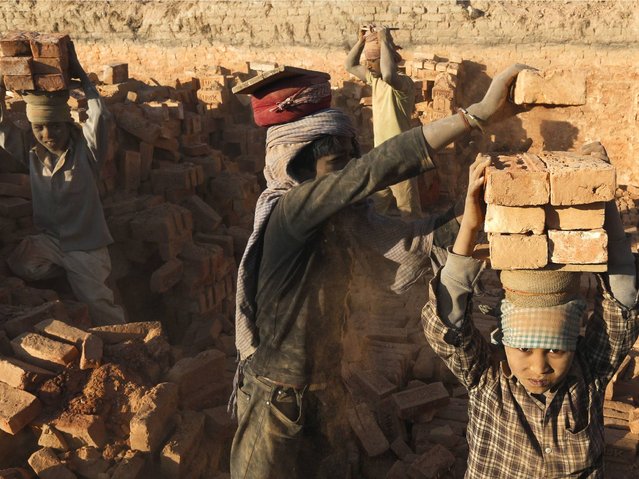 By Deborah Andrews
Prior to the April 2015 earthquake, Nepal was in the midst of a construction boom that was struggling to keep up with the rapidly increasing population and urbanization trends. After the earthquake, the need to rebuild further increased the demand for bricks. For workers on Nepal's kilns, the brick industry played a much needed role as a source of income for unskilled labor, although the industry has been characterized by exploitative employment practices.
The Global Fairness Initiative (GFI) with its partners – GoodWeave International, Brick Clean Group Nepal (BCN) and Humanity United (HU) – recognized the importance of the sector and saw an  opportunity to create incentives based partnerships to bring improvements to an informal, migrant, working population with little government representation or oversight. A project named 'Better Brick Nepal (BBN)' is paving the way for nationwide change throughout the brick kiln industry.
Here are the top 10 facts you need to know:
The number of kilns currently operating in Nepal is thought to be between 1,200 and 3,000 –with a large number of unregistered kilns. Many kilns exist on the periphery of communities where there is little government oversight, community organization or worker association representation which leaves the workers wide open to exploitative practices.
Approximately 250,000 people are thought to work annually in kilns throughout Nepal, of that as many as 60,000 are children. Brick workers are largely an unskilled, migrant population. Most are migrating from within Nepal, but some are from northern India, resulting in many children living temporarily in a community which speaks a different language to their own and being part of a school system which is completely different and non-transferable – if the school is willing to take them in at all. A number of educational deficits take place.
https://stopchildlabor.org/wp-content/uploads/2022/08/logo.png
0
0
CLC Contributor
https://stopchildlabor.org/wp-content/uploads/2022/08/logo.png
CLC Contributor
2016-05-06 13:53:28
2022-11-07 06:10:58
A Better Brick: Addressing Child Labor in Nepal's Brick-Making Industry